A quiet microwave oven will ensure that you can warm your food any time of day or night without disturbing the rest of the household. With open plan living becoming more popular, it is even more important to have reduced noise levels from all of your kitchen appliances.
The microwave exists in almost all kitchens as it's a quick and easy way to heat your food. The downside is that they can be especially noisy. The motor is loud that rotates the turntable, and the annoying 'ping' or series of 'pings' alert when the contents are ready.
Quiet microwaves are available for both the home or professional kitchen.
They can provide reduced noise disruption that can offer better comfortable levels of conversation or concentration to continue uninterrupted.
It is essential to have a quiet microwave oven that is high quality, efficient, safe, and reliable. We review the top quietest microwaves available on the market today and provide you with some top tips if your current microwave is noisy.
Breville BMO850 Smooth Wave Microwave Oven
The Breville Smooth Wave uses Sensor iQ technology which automatically adjusts power to precisely cook or reheat. The Smart Reheat technology detects the steam released and automatically sets the ideal time for precise and tasty results.
Breville takes sound levels seriously and has even engineered the soft close door to be 80% quieter, in addition to making the microwave 50% more silent in operation. Breville also provides a sound suite and mute button, which means fewer beeps.
Thanks to the engineering team at Breville, the damping materials used within the robust 1250 watts motor housing keep the noise emitted to a minimum. In regular operation, the BMO850 sound level is an impressive 56.4 decibels (dB) making it one of the quietest microwaves available.
Ease of use comes with a shortcuts panel for commonly used tasks, and you can set your own favorites with one-touch buttons. The control panel is intuitive with a large backlit LCD screen. There are 2-dials, one for timings and the for required power. There is also an option to switch the turntable off and a safety child lock button.
The Smooth Wave microwave oven has contemporary styling, brushed stainless steel complements any kitchen setting while being easy to clean. It is relatively compact yet holds 34 liters with a generous 12.5″ turntable.
Panasonic NN-SN966S Microwave Oven
The Panasonic NN-SN966S is another quiet microwave oven and a compact workhorse with excellent cooking power and plenty of features. The Genius sensor cooking button can automatically cook your food based on the amount of steam being produced.
There is inverter technology and an adjustable 1250 watt power level. The inverter technology generates a seamless stream of consistent power that helps to evenly cook food and stop overcooking. The inverter also has a Turbo Defrost setting to speed up defrosting time.
The NN-SN966S has a 2.2 cubic foot capacity with a 16.5-inch turntable that is thinner, lighter, and more efficient, allowing Panasonic to devote less space to electronics and more internal capacity.
The only reason this is not our top pick is the disappointing capability of the timer/display and keypad controls. You have to scroll through the cooking options to appear on display by hitting each number. For example, pressing "Sensor Cook" and then 1 would display "Frozen Dinner," then 2 would show "Popcorn," and so on.
There are, however, 14 preset menu items included, a quick minute timer, delay start, and child safety lock. Overall this is an excellent quiet microwave with impressive inverter technology.
If you live in a small apartment and plan on using a microwave often, this will easily fit your counter and would be our choice over the Breville. We also found the noise level is measured under 56 decibels.
Toshiba EM131A5C-SS Microwave Oven
The Toshiba EM131A5C comes with pre-programmed buttons for optimum heating of most popular food, and you can program up to three favorite time and power combinations for extra one-touch convenience.
There is a large digital display with a clock function, a countdown timer, and the remaining cooking time. This quiet microwave also has an intelligent sensor that senses the amount of steam produced during cooking and automatically adjusts for optimal results.
The Toshiba is very quiet when it's in operation, just below 65 decibels, and instead of the annoying bing sound found on most microwaves, this one has a moderately audible sound, and if you want to mute the beep, you can turn it off.
This is another powerful microwave oven with 1100 watts with 10 power levels.
It has a capacity of 33 liters and a turntable diameter of 12.4 inches. The overall dimensions of this microwave are more significant than some (20.5 inches width by 17.1 inches deep), so if you are tight on space, you should measure the sufficient space you have available.
The EM131A5C microwave can be quickly turned on for one to six minutes at full power by rapidly touching the number of minutes you would like to cook. If you need extra cooking time, just press the Start button to add an additional 30 seconds of cooking time.
Energy-saving Eco Mode minimizes standby power by up to 50%. Which means you will be saving energy consumption and operating cost as well as protecting our planet.
Nostalgia RMO4 Retro Microwave Oven
Stainless steel is not for everyone, and the Nostalgia has a beautiful and sleek retro design. It has an elegant chrome door handle and comes in various colors like aqua, white, red, and black.
It features 12-pre programmed cooking settings and a delay timer. Usability is simple with a turn-and-push program dial, a bright LED display, five power levels, and 800-watts of power.
The Nostalgia is very cute and stylish, even more so than in any of the pictures. There is a dial function to select time, so there aren't any "beeps" as you get when you use a keypad-style microwave.
This microwave oven is for the occasional user. It only has 0.9 cubic feet, not many features, and power is low compared to other models reviewed.
The sound in operation is not the quietest microwave tested and is rated at around 64 decibels. This is all about the retro style.
Panasonic NN-SD372S Microwave Oven
The Panasonic NN-SD372S microwave oven has 950 watts of power and comes with inverter technology that generates a seamless stream of consistent power to cook evenly. The inverter also has a Turbo Defrost setting to speed up defrosting time.
It also has a built-in automatic smart sensor that calculates and adjusts power levels and time depending on different foods by measuring the amount of steam produced.
The compact stainless steel design of the Panasonic NN-SD372S and the inverter power unit dedicate less space to electronics and provide far more internal capacity. The Panasonic microwave has a 0.8 cubic foot capacity with an 11.22-inch turntable, which is ideal for most. The smaller, more efficient energy and control units are lighter than conventional microwave components giving the Panasonic a smaller footprint on the counter.
This Panasonic microwave oven has quick minute timers, delay start, and child safety lock features. It also has a unique keep-warm feature that allows you to keep your food fresh and hot until you're ready to serve.
It also does not have a nagging beep that keeps reminding you to come back and get your food just one beep, and then it's all on you.
Toshiba EC042A5C-SS
When you're cooking for a crowd, the EC042A5C-SS microwave oven by Toshiba has some innovative features to make it easy! With a 1.5 cubic foot capacity, this stainless steel oven can accommodate food for enough people to satisfy any appetite with its spacious interior and sensor reheating feature.
All of your recipes can have convenient one-touch settings. Plus, you get a range of 10 power levels for optimal cooking from 170 to 425 degrees F. With 1000 watt cooking space plus convection mode, this machine has ample room to prepare any dish all while having its own digital panel timer that counts down as your food cooks—so it's never overcooked!
This ingenious device will also memorize three of your favorite time/temperature combinations for additional convenience so everyone's craving is satisfied without having to worry about what goes on inside the kitchen. And because every cook wants their space clean, cleanup is a breeze thanks to its stainless steel exterior.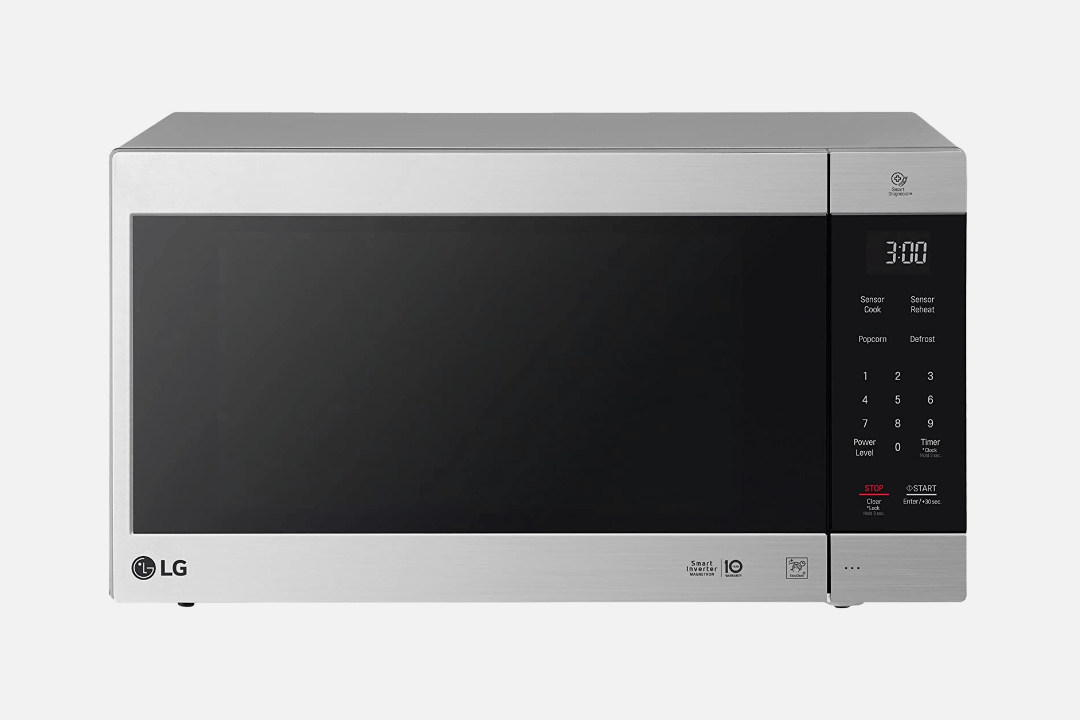 LG Electronics LMC2075ST NeoChef
Fancy dinner, on-demand! Never under or overheat your food again with this brand new Microwave by LG. With the ability to precisely control cooking power throughout a cycle, you can have evenly heated dishes every time. This is what a serious microwaver really wants and needs!
Your typical microwave is so 20th century. With LG's easyclean interior – assisted by Anti-Bacterial Coating – our microwaves resist stains and buildup, so cleaning your quiet microwave doesn't have to be a chore. Simply wipe with a damp cloth-no chemicals, no scrubbing, no problem. And its intuitive smoothtouch glass controls not only look sleek but makes operating your range a snap with just a touch of your finger (literally). Best of all they have been designed with practicality in mind – the smooth surface easily wipes clean. Plus NeoChef microwaves provide 3 wheels for the turntable and 3 gliders as well as an extra hexagonal-shaped stabilizer ring.
Banish complicated microwave cooking from your life with the LG Electronics LMC2075ST. With modern, stylish design, bright LED lighting for better monitoring, and leading-edge energy efficiency you can't go wrong with this buy. It's got a dependable 10-year warranty on its magnetron so peace of mind is just one small purchase away.
Samsung MG11H2020CT
If you're looking for fast, easy meals that taste great then the Samsung M11H2020CT is for you. Get ready to indulge in crispy bacon and juicy burgers thanks to the grilling element cooktop with its evenly distributed heat. Sit back and enjoy a well-made meal without all the work by using shortcuts like auto cook, which has 37 preset functions such as popcorn and auto defrost.
Throw in some smoky saute pan dishes from your stovetop with no worries thanks to a scratch-resistant ceramic enamel interior that's so easy to clean it'll be sparkling every time. Finally, set up an impressive culinary show on your kitchen counter with more cooking power than most models—thanks to 10 different levels of heat plus 1000 watts!
This microwave oven will make room for all of your dishes. With 1.1 cu ft capacity, interior dimensions at 14 3 /4″ x 10 1 /16″ x 14 3 /4″, and a large turntable with plenty of space to cook, this microwave is perfect for dinners or small parties. Child safety lock makes sure the kids can't surprise you with their cooking skills (or lack thereof).
COMFEE EM720CPL
The COMFEE EM720CPL is a compact appliance that's a stylish (black) stainless steel finish and can hold 700 watts of power.
It also has 11 functionalities, including defrosting by weight or time, child safety lock capability, clock, display settings, and more! With features like the Eco Mode with only 50% standby power in using it as well as its bright digital display and easy-to-read control panel, this product is surprisingly simple to use in any kitchen setting.
There's no need to use your oven anymore – you can cook just about anything with the COMFEE EM720CPL microwave! Whether you're cooking frozen veggies for seconds or popping some popcorn for minutes after work, the COMFEE can handle it all without disturbing the rest of the house.
---
How To Pick The Quietest Microwave Ovens
You may have noticed when looking at the above quiet microwaves that there are some key factors they all offer to reduce microwave noise. When shopping for a quiet microwave oven you should consider the following before you buy.
Noise Levels
If you are reading this then noise levels are obviously an issue, so looking for features like inverter technology or sound insulation will be an important part of your choice.
Inverter Technology
Some countertop microwave ovens use inverter technology which is more energy-efficient and makes for a quieter microwave. This type of microwave will often have an increased life expectancy as well because the insulation around it is better.
Smart Sensors
Some models of microwave ovens also have smart sensors or automatic cook settings that will take the guesswork out of cooking. In this case, you can select from a list of preset cook times and the microwave will adjust power levels accordingly.
Performance and Wattage
The performance of your microwave is also a key factor in how noisy it can be, as well as the wattage. If your microwave is over 1000 watts it will be much louder than one that has a max rating of 700-800 watts.
You can also use this information to narrow down your choice between microwaves with different features, like inverter technology versus smart sensors.
Size
Microwave ovens come in a variety of sizes so it is important to consider how much room your microwave will need and what size microwave fits best in that space.
Keep in mind that microwaves work best if they are level with the floor and not tilted at an angle, so be sure to check the microwave height before placing it on a countertop or table.
Placement
Placing your microwave in the right spot can make a huge difference in how noisy it is. If your microwave oven is too close to the wall, corner, or other appliances then this will cause noise bounce and echo that makes for an unpleasant sound.
Price
Most microwave ovens are priced between $150-$600 so it is important to consider what features you want and how much your budget will allow before making a purchase.
Quiet microwaves are usually more expensive, so you'll need to determine how much noise is too much for your needs.
Conclusion
This blog post has been a look at the top 9 of the quietest microwaves on the market, and we hope that you found it helpful. We've done our best to find products with features that will suit your needs in an attempt to make this buying process as easy for you as possible. Thanks again for reading and enjoy cooking more quietly without disturbing others around you.
---
Full tips on how to soundproof your house or room for drums. Every step is…