Are you looking for the quietest air rifle that can help you improve your shooting performance? This guide will help you choose the most silent air rifles with great functions to meet all of your requirements on the market right now.
More and more people are looking for air rifles as they have become popular for hunting games or pest control, and you are going to need one that is quiet. After many tests and much research, we have found the 10 quietest air rifles whose features are most suitable for users.
If you are a shooter looking for the quietest air rifle or would like to start a new experience with air rifles, carry on reading this review. We have some excellent quiet rifles that you should not miss!
Are You Looking for a Silent Air Rifle?
If you want a rifle for hunting or killing pests, you will need a silent air rifle to guarantee you don't alert your prey. With so many guns on the market, it will be challenging to identify the best and quietest, especially if you are not a firearms expert.
We have gone through the challenging task of finding the quietest air rifles perfect for your silent hunting. We have compiled a list of the top 10 quietest air guns to buy so you can start your hunting.
How We Picked These 10 Top Air Rifles
We don't just recommend any guns. We have taken our time to research and find the best guns in the market. It's essential to get the best first-hand experience from people who have used them.
We understand the difference between air rifles' performance. We have researched to ensure you know the difference between a good air rifle and a less than adequate one.
First, we shortlisted the top 30 air rifles. We then checked thousands of customer reviews to determine the guns which provide the best value that the manufacturers promise their customers.
We considered the features, specifications, and usability of all the air rifles discussed in this article. So you can be sure to find the best rifle that suits your needs.
Benjamin Marauder Synthetic Stock Air Rifle
The Marauder is a lightweight all-weather, synthetic stock featuring an ambidextrous raised comb and is well-balanced for field carry.
This powerful PCP air rifle offers all the features required for hunting small to medium-sized pests. The choked and internally shrouded barrel provides both precision and silent operation, producing the most accurate and quietest rifle in its category.
The Benjamin Marauder Synthetic Stock has a two-stage, adjustable match-grade trigger system that makes every shot smooth and steady. It comes with the innovative 8-round magazine, which allows for fast follow-up shots. The built-in pressure gauge and quick-disconnect Foster fittings make this gun easy and quick to fill so you can refill and return to shooting faster.
Gamo Raptor Whisper Air Rifle
The Gamo Raptor Whisper air rifle contains a lot of features that make this an excellent hunting, target shooting, and plinking gun. The Whisper Technology makes this gun quiet, and you'll appreciate the reduced recoil thanks to the butt-pad equipped with the Shock Wave Absorber (SWA).
The single-shot Raptor Whisper delivers all-weather durability and is an excellent choice for small game hunting, target shooting, and killing pests.
The Raptor Whisper incorporates an Inert Gas Technology (IGT) for power in the piston to launch pellets. You get smoother cocking and shooting with no spring torque or fatigue, better shooting in cold weather, and a much longer spring life than traditional springs.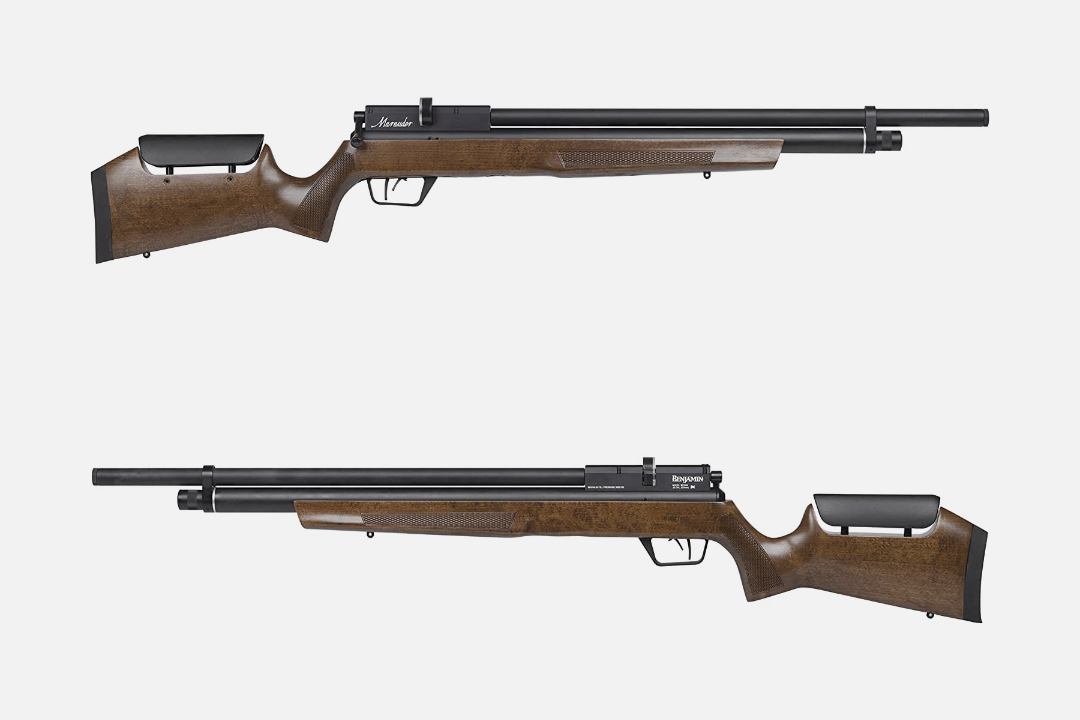 Benjamin Marauder Wood Stock Air Rifle
The Marauder is an attractive adjustable hardwood stock, featuring an ambidextrous raised comb and is well-balanced for field carry.
This powerful PCP air rifle offers all the features required for hunting small to medium-sized pests. The choked and internally shrouded barrel provides both precision and silent operation, producing the most accurate and quietest rifle in its category.
The Benjamin Marauder Synthetic Stock has a two-stage, adjustable match-grade trigger system that makes every shot smooth and steady. It comes with an innovative 10-round magazine, which allows for fast follow-up shots. The built-in pressure gauge and quick-disconnect Foster fittings make this gun easy and quick to fill so you can refill and return to shooting faster.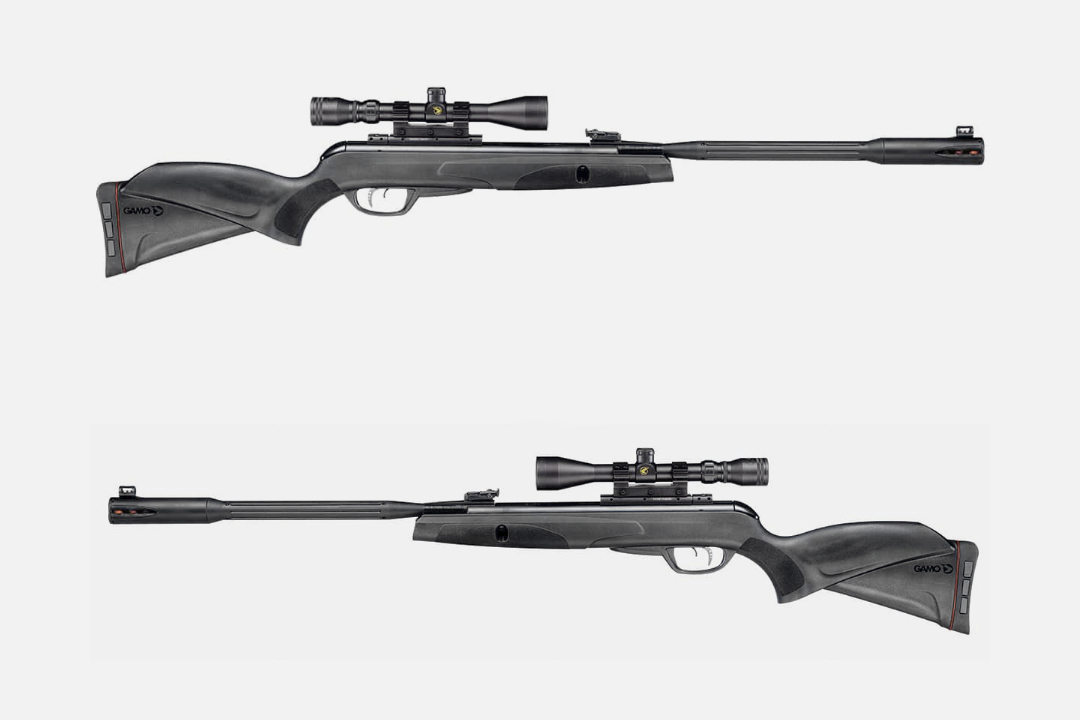 Gamo Whisper Fusion Mach 1 Air Rifle
Gamo intended the Fusion Mach 1 rifle to be the standard for stealthy hunting and accurate shot placement. The Gamo Whisper Fusion Mach 1 air rifle is a leader in the quiet shooting category. Fitted with a 3-9×40 scope, it's a hunter's dream when it comes to silent, precise shooting.
The Whisper Fusion Mach 1 air rifle combines some of the most advanced technologies Gamo has to offer. Whisper Fusion double-integrated noise dampener reduces report by 89.5%, and the IGT Mach 1 power plant delivers more velocity and terminal strength.
The Mach 1 features the Whisper Fusion sound moderator, allowing pellets to travel through two different chambers that combine to compress and prevent noise expansion. This sound moderator results in the quietest Gamo power plant available.
Gamo uses many technologies during the manufacturing process making this one of their most effective break barrel rifles to date, making it perfect for pest control, target shooting, and everything in between.
Hatsan AT44-10 QE Air Rifle
The Hatsan AT44W-10 TACT QE comes with a QE barrel and integrated silencer. It has a powerful multi-shot 10 or 9-shot (depending on caliber) PCP (Pre-Charged Pneumatic) type air rifle.
The Hatsan QE (QuietEnergy) has a precision threaded barrel with an integral silencer, reducing the sound of shots by 50%. The rifle has an interchangeable 180cc compressed air tank located under the barrel.
A built-in pressure gauge allows you to monitor the tank pressure and its charge level continually. Fully charged, you get 60-80 effective shots depending on the air gun caliber.
The magazine rotates and is replaceable with the aluminum magazine giving 10-shots and the steel 9-shots. The lever on the right-hand side reloads by pulling the "cock" turning the magazine, and loading a new pellet.
The stock construction is durable polymer resistant to mechanical damage. Soft rubber inserts on the pistol grip and the lower front part ensure a firm grip and emphasize the tactical rifle. At the bottom of the grip, there are two sockets (ports) for additional magazines.
Benjamin Trail Nitro Piston 2 Air Rifle with Scope
The Trail Air Rifle from Benjamin is a full power gas ram, break barrel rifle. This rifle is ideal for hunting and target shooting, thanks to its consistent and powerful muzzle output.
This latest model features the new Nitro Piston 2 technology, which reduces recoil and is more reliable and consistent than its predecessor.
This rifle also benefits from the new Clean Break Trigger system for a clean and crisp release every shot, so your accuracy is not compromised.
The barrel construction is of steel and precision rifled for great accuracy, which is then covered in a full-length shroud to reduce the muzzle report considerably.
One advantage of this air rifle is that it has a Picatinny tactical scope rail on top, enabling a much more robust fit. It is giving more scope options. This rifle comes complete with a 3-9×40 scope to get you started.
Bear River Pellet Gun Air Rifle TPR1200
The Bear River TPR 1200 Power Pellet Air Rifle is a high-powered pellet gun with both impressive looks and performance. It has been engineered with spring piston technology to increase power, the TPR 1200 air rifle fires .177 caliber pellets up to a velocity of 1,200fps.
The high powered Break Barrel makes it perfect for long range accuracy and consistency when hunting small game. The included 4×32 scope with an adjustable fiber optic sight provides even more accuracy with a top-mounted 6-inch Picatinny rail ready for your choice of optics.
The TPR 1200 also has adjustable fiber optic sights for shooting without a scope and comes in a high-quality camouflage pattern to help you blend when hunting. The TPR 1200 Power Pellet Air Rifle from Bear River is ready for action with its solid build.
Stoeger X20S Suppressor Spring Piston Air Rifle
The Stoeger X20S Suppressor Air Rifle offers the Dual-Stage Noise Reduction System with Air Flow Control (AFC) technology, designed by world-renowned silencer designers Humbert CTTS.
The Q20S is quiet with sacrificing power. Instead of using sound-dampening baffles, the internal air-regulator ring helps it reduce noise better than any other pellet gun on the market.
The ring has four decompression holes that bleed off most compressed air before the pellet even enters the baffles. The rest of the air dissipates through the baffles.
The Stoeger X20S is a full power, break barrel airgun with a cocking grip and rifled precision barrel. It has a fully adjustable rear sight with a fiber optic bead and a two-stage trigger. The stock is ambidextrous with automatic safety and a double cheekpiece.
With the powerful spring-piston break-action of the Stoeger X20 air rifle, you can propel 4,5mm alloy pellets at a potent 365m/s. The ergonomic cocking grip allows quick and easy, single-stroke charging.
Hatsan BullBoss Quiet Energy PCP Air Rifle
The Hatsan BullBoss QE sets the new standard for a bullpup air rifle's expectation and without the premium price to pay.
The BullBoss is short and compact and deceptively hides the 23″ long Quiet Energy suppressed German steel barrel. It delivers velocities as high as 1170fps using lead pellets.
The Hatsan BullBoss bullpup PCP includes a Quiet Energy suppressed barrel, which has severely reduced the gun's report when tested. It's quiet enough to fire without disturbing your neighbors when practicing in the backyard. The BullBoss includes a Quattro Trigger that is a two-stage fully adjustable match trigger.
The bullpup design's weight displacement distributes the 8.6lbs of the gun ideally to make this a joy to shoot. Allowing follow-up shots that are effortless as you can keep the weapon shouldered while operating the smooth side lever of the BullBoss.
Benjamin Titan NP Wood Stock Nitro Piston Hunting Air Rifle
The Benjamin Titan GP is a gas ram gun powered by nitro piston technology that uses a gas-filled cylinder instead of a coiled spring. The cylinder is already pressurized air kept under tension until you pull the trigger. Nitro piston rifles are also lighter and last longer than the spring gun.
This rifle is available in both .177 caliber, excellent for target shooting at 1200fps with alloy pellets, and .22 caliber for hunters and pest eliminators giving you 950fps with alloy and 800fps with lead. The gun is a single-shot break barrel gun, so you can only shoot one shot at a time.
Single-shots can make you become a more disciplined shooter. You have to break the barrel to reload the pellet manually. Since you only have one chance to hit the animal, or it will run away while you are still busy reloading, so you need to make your first shot count.
The barrel is a rifled steel barrel with helical grooves inside that makes the bullet spin. Helping improve accuracy and enhances shooting range.
The gun also has a muzzle brake at the tip of the barrel to protect the barrel tube.
The Benjamin Titan GP break-barrel nitro piston power source is quiet, smooth, and powerful. Simultaneously, the hardwood stock has a comfortable thumbhole and ventilated rubber recoil pad and has an ambidextrous design.
Things to Consider Before Buying a Quiet Air Rifle
The above list represents some of the best and quietest air rifles you will find. Here are factors we considered in our research, and you should also think about them when purchasing a quiet air rifle.
The Main Purpose
Before you decide to buy an air rifle, knowing the main reason will help you chose the right gun on the market. If your focus is hunting, you will need something with a long-range to keep your distance. If your choice is recreational, you can choose a more basic rifle from a reputable brand.
You will need to determine all the other factors you would require to consider when deciding on a quiet rifle.
Noise Level
You have to understand that air rifles make varying levels of sound. When looking at the noise, focus on what brings about the most sound difference.
The power source is the most significant factor that affects the loudness of an air rifle. Let's compare the different power sources before you settle on any of the air rifles. The type of rifles available includes compressed gas, pre-charged pneumatic, and spring-piston.
Compressed Gas Air Rifles
These are guns that use compressed gas cartridges to propel pellets. They work quietly, but the drawback is that they are not as powerful as the other two rifle power sources.
Spring-Piston Air Rifles
Spring-Piston guns use a spring compressed at the breech or a lever. The trigger decompresses the spring, releasing the piston and pushing the air forward. Spring pistons are louder as the air slams with the spring every time you shoot.
Pre-charged Pneumatic Rifles
These are guns with cylinders of compressed air, which releases at high pressure when you pull the trigger. They are the quietest rifles on the market. They are also more powerful than the other kinds of guns.
Ammunition
Some rifles use pellets or live bullets, while others only use one type of ammunition. Some rifles are only specific to use with pellets. Depending on your needs, choosing a gun that solely uses pellets could be enough and therefore suitable for you. The primary thing here is to determine your rifle's condition and choose a pellet that will deliver that need to you.
Velocity
Every rifle will deliver different speeds. The mechanism brings about the difference, and feet per second measures the rifle speed. If you consider the need for your gun to have great speed, then you will need one with a high velocity which is around 1200fps
Budget
Riffles can be expensive, although they have improved tremendously over the years. With all the technological improvements, you will find an excellent gun within your budget if you do the research. You don't need to break the bank getting the rifle you think you want. Stick within your budget, and you will get a good gun that will serve your needs well.
---
Full tips on how to soundproof your house or room for drums. Every step is…